Digital freight forwarder, a simplified logistics
We have designed a platform to simplify and centralize international transport operations.
Digitise your business today.
Consult the evolution of your operations using dashboards. Our solution allows you to automate the follow-up of each transport. Limit exchanges with your customers thanks to tracking of each event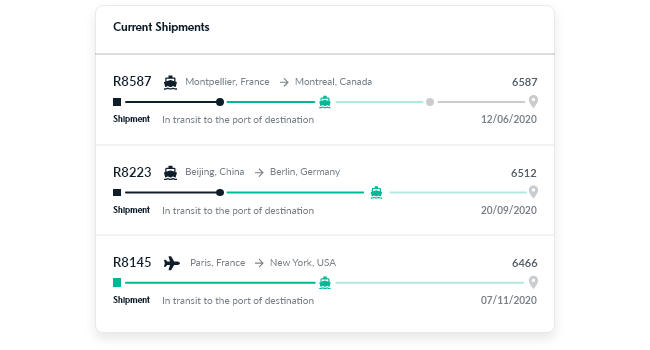 The Human Digital Freight Forwarder
Fleetever chooses to put people at the heart of its technologies to improve import & export.
Our solution allows you to exchange your information and transport documents more easily.
Discover our comparison :
Digital & classic freight forwarder
Digital freight forwarder.
Fleetever puts technology at the service of people to improve and simplify international transport.
The digital freight forwarder better meets the needs of its customers
The international transport of goods requires a lot of time, energy and money. However, import-export requires a lot of administrative documents linked to sometimes complex regulations. The documentation required by the customs authorities can vary from one country to another. 
Faced with this complexity, digital freight forwarders provide great simplification to transport operations. With a digital freight forwarder, all processes are centralized on one platform. This platform is designed to provide easy access to information. This allows sharing of information and simplifying exchanges with all the actors of the import and export chain.
Thanks to the use of technology, customers can follow their transport in real time thanks to the tracking service, and keep an eye on all their operations. Another benefit of this evolution is the secure exchange space that allows information to be shared more easily. What used to be a complexity with all the documents to be faxed, printed, scanned or sent has now become a facility with the sharing of documents centralized on a platform. 
Despite all this digitalization, the human side must always be at the heart of the forwarder's concerns. Indeed, customers communicate on the platform with real people who use their expertise to coordinate logistics operations.
A collaborative platform for international transport
Today, there is an accessible and easy-to-use tool that makes global trade simpler. This tool is the collaborative platform provided by the digital forwarder. It allows to follow the management of the transport from the quotation request to the delivery of the goods. All these steps are centralized on a single platform. This platform is able to respond to central issues for specialized companies on import-export.
The main features that we find are :
Request quotes based on specific criteria

Receive and choose offers adapted to your needs

Follow your transport on the platform thanks to the tracking service

Access an instant messaging service to exchange information and share documents

Store your shipping documents
With this platform, the shipper sees his logistic operations simplified. He saves time and productivity. He can thus concentrate on his core business.
The digital freight forwarder Fleetever
Designed as a truly revolutionary tool, Fleetever is a digital freight forwarder that improves and facilitates transportation operations. At Fleetever, people and technology are at the heart of our vision to improve our customers' supply chain. 
Our platform collects and analyzes a wide range of data such as transport tracking and logistics flows. Thanks to this logistics platform, our customers benefit from a complete vision of their supply chain. They have reporting and information sharing tools. 
Our platform allows users to exchange information between shippers and carriers and saves everyone time and money.
Improve your import / export with the digital freight forwarder